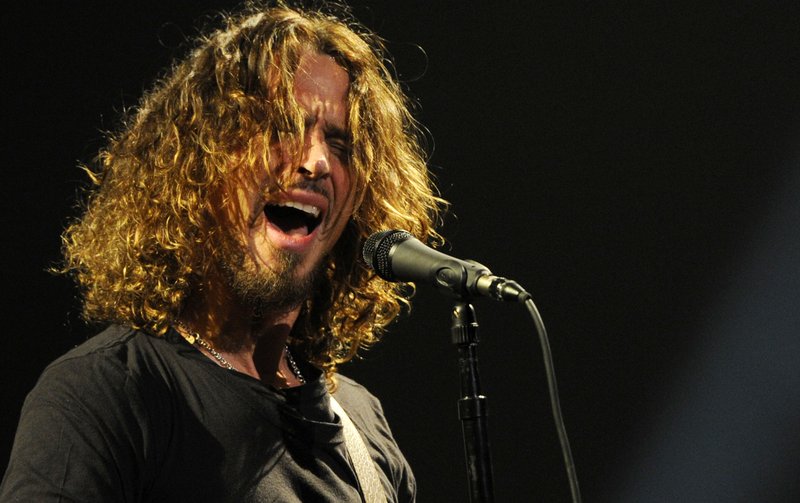 It's been almost a week since our world was turned upside down when we woke up to the news that Mr. Chris Cornell had passed away. My brother had sent me an early text and when I opened it I was bracing for bad news, I thought it was something to do with my immediate family. It turns out it was very sad news and even though I never met Mr. Cornell, I considered him part of my family and have been grieving since. And I mean this with no disrespect because recently there have been many artists who have passed on with just as much shock and disbelief—this untimely finality is something that I am having a hard time shaking. For me (and I was born one year after Chris), the lyrics to "American Pie" by Don McLean have never hit me the way it did last week- "…when I read about his widowed bride… something touched me deep inside… the day the music died." My heart aches for his wife, children, family & friends.
How can someone I never met have an impact on my life? It's easy—music. His music (along with much help he had along the way with his various bandmates) was injected into my blood stream in late 1994 and became essential for me almost as much as food & water. "Superunknown" was released in March 1994, I had heard so much buzz about this album that I ran out to the local store in Ringwood N.J. and I purchased it, put it on and subsequently tossed it to the bottom of the pile of CD's that I owned. I wanted to go back to the store clerk and tell him the buzz was not worth it. But as it goes, I was sadly mistaken because a few months later (and since that time), I have held the belief that "Superunknown" was by far the best album of the 1990's and in my opinion is one of the greatest albums ever recorded in the history of music. I was all in and just like when I boarded the "band-wagon" late for Metallica, I went back through Soundgarden's catalog and embraced it all.
I remember the first time I saw Soundgarden as a headliner at the New York Armory in June 1994, there were no windows, no air-conditioning and to give you an idea of just how hot it was, the NYC subway system was a breath of cool air when the show was over, if you can believe that. I was there by myself and remember wanting to get as close as I could to the stage to see this man with the golden voice—who sings like Chris Cornell? Are you kidding me, no one comes close. I wanted to body surf but with a baby coming in December and no one else there to save me, I decided to move closer. I set up shop near the right speaker—dark as well you know what—and then here it is—"Jesus Christ Pose"—the screeling (is this a word?) sound of the guitar, the pattering of drums sounding like they are coming in nine different directions as the crowd starts to body slam each other with such force I knew I wasn't in Kansas anymore. Then this high pitched voice comes screaming through the microphone—"And you stare at me…in your Jesus Christ Pose"— there he is—Chris Cornell—closest I ever came to meeting him in person. And like he was for me since that time- a larger than life figure, he simply took over the room with his vocal prowess and I'm thinking he could have commanded us to do what he wanted because we were under his spell. You could smell, taste and feel the energy in the room similar to that of a vicious tornado ripping through your town and despite the absolute craziness going on around me, I was at home.
Two years later "Down on the Upside" is released and I am thinking that there is no better band on the planet. The first time I heard Chris's vocals on-"Burden in my Hand"—I knew I would follow him anywhere, including a desert because I was thirsty for more. The passion in his voice is something to behold and despite the dark lyrics on most of his tunes, I was drawn to its beauty- yes beauty. Now many would say how can something bleak be beautiful? I asked the same question and then Chris Cornell came into the picture and I never asked that question again. Like many families which experience turmoil, the Soundgarden members were stressing & fighting as the bar they created rose to a level that was probably too much to take and then…I will never forget the day- April 9, 1997—I hear on the radio that Soundgarden has broken up. What? How can they? A part of me died on that day, no exaggerating.
As I stumbled from the news, wondering where I was going to get my Chris Cornell fix from there was news that he was working on his first solo album- "Euphoria Morning"- and it was to be released in the fall of 1999. During that year I made some huge personal maneuvers including leaving a company I never thought I would leave as well as moving away from Ringwood N.J. which had become some much of a home, just like Brooklyn N.Y. because it was "family" to me. As I settled into a new job and a new state (CT) Cornell's first solo album is released and I will tell you that his album helped me adjust to my new life. He had to adjust to life without Soundgarden and his first solo effort solidified that he could move forward on his own two feet and you may not believe it but that inspired me to move forward with the changes I had made.
His music continued to inspire me because of the deep lyrics (and for those who know me I am typically not a lyric guy) which if you looked closely there are signs of beauty through the darkness. "When I'm Down" is the perfect example—when I heard this I did not move, I was frozen—here is such a deep song that is seemingly depressing –"…I only love you when I'm down… I'm only near you when I'm gone…" However, he lets her know—"…one thing for you to keep in mind, you know… that I'm down… all the time.." This is a dark beautiful tribute that tugs at the heart. As a side note, I was able to see Chris perform this song at the Town Hall Theater in NYC in 2011 and I felt like I was lifted off the ground to hear him sing it the way it appeared on the album. I had tears in my eyes that night and then last Thursday morning as I was watering my lawn looking up to the sky wondering why or how this could happen. (And again thinking about his wife & children).
After "Euphoria" I waited patiently for the follow up album which did not come for a while as he hooked up with the members of Rage Against the Machine to form Audioslave. This combination produced some excellent songs over the three album history but for me it wasn't the same. I wanted Chris to be the solo artist that I knew he was- different, unassuming, not pretentious, melodic with lyrics that hit your heart. Home is where the heart is, heart is where the home is.
As with friends or even family one loses touch as one learns to adjust to things that the heart wants but is not having for some reason that is out of one's control. I waited and was rewarded with the unbelievable release- "Higher Truth"- in Sept. 2015 which took me back home again. They say that a fine wine takes time and it is worth the wait when it is a diamond in the rough. As soon as I heard "Let Your Eyes Wander" there was a feeling of warmth that took over my body just like a hot cup of cocoa or soup on a windy snowy cold day. I knew I never had to read any other reviews on this album because I knew this was something that was waiting to come out of Chris for a long-time and is a masterpiece, in my mind.
Chris, if you can hear me through my tears, please know how much your music meant to me and at least I have your songs to keep me moving forward. If your wife & children could hear me please know that my heart bleeds for them and I wish I could take all the pain away. They say time heals wounds and this will take some time. I know your heart is in their hearts. Again- home is where the heart is, heart is where the home is. Thank you for always taking me back home and maybe we will meet at another home someday.